Alumna, Rachel created a Facebook fundraiser to Keep Coniston on the Map. Below are her written words about how important Camp was for her and why such an amazing place needs to be saved.
Anyone who has heard me mention YMCA Camp Coniston has probably also heard me say I don't know where I would be today if I hadn't ended up there.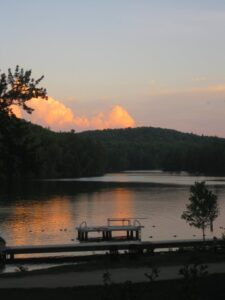 With my parents busy raising three kids and working full time, I was left to my own devices a lot and the majority of my guidance and role models was found in teachers and my friends' parents. I was volatile, often (usually unknowingly) mean, mostly because I had trouble identifying and expressing my emotions. I had no idea at the time, but as someone who has dedicated a huge portion of my adult life to understanding human behavior for my work, it has become abundantly clear to me how much Camp Coniston altered my future.
I came to Coniston less than two months after suddenly losing my older brother. My parents (justifiably) were lost in their own grief. I found myself at the age of 13 having to play the role of caregiver while fumbling my way through my own devastating grief. I had signed up for one session at Coniston months prior. But when the time came to actually go, I had a lot of mixed feelings about going to a place where I only knew two people, especially when I felt so sad and not in control of my emotions. It turned out to be arguably, the best decision of my life.
At Coniston, I was given critical time to heal and to just be a kid. To let myself smile, have fun, process my feelings and just take care of myself. It quieted my anxiety, it helped me find strength in myself, but also the strength that comes from being part of a community. That it's ok to lean on your community when you need help. In two short weeks, I made lifelong friends, I shot an arrow for the first time, I learned how to swim, I played outside, I learned to hug, I felt safe. The counselors were fun and supportive and cheered you on when you tried new things. It was paradise to me. I fell deeply and madly in love with Coniston that summer; with the people, the breathtaking views, the energy, the shared love of this place.
I returned to those shores for another 9 summers, the very happiest summers of my life. Coniston gave me the tools I needed to grow socially and mentally. I learned to be adaptive to situations, I learned what it means to be a good friend, I learned how to lead, to be still, to look up, to love, to guide, to persevere, to nurture, to be respectful and respected, to challenge myself, to encourage, to support, to care, to explore.
Camp is an exquisitely unique and valuable experience that I wish every child could have. After what I can only imagine was a heartbreaking and incredibly difficult decision, our Camp Director, John Tilley has wisely and compassionately decided to not open camp this summer to protect the staff and campers from COVID-19. My heart breaks for all the campers and staff. Especially for those that need camp. For those kids who are sustained the rest of the year by these 2 and 4-week sessions. Although I haven't rested my head at Coniston in nine years, it will always be my home and my family. I will eternally be grateful to this family for giving me the building blocks I needed to flourish.
The amazing year-round staff at Coniston are incredible humans. They have dedicated their time and energy to creating a safe and beautiful space for all children ages 8-18. Coniston has a wonderful philosophy that camp should be accessible to everyone. So other than offering camperships to help fund campers who wouldn't normally be able to afford camp, they have also worked incredibly hard to keep the session costs way below the national average.
Prior to the outbreak, they had already invested a lot of money in making sure this summer was something special for their campers. In their efforts to prepare the camp for an amazing summer, they now find themselves facing a $1.3M loss. If you are able to share anything to help this amazing place survive this loss for future campers, I know my entire Coniston family would be incredibly grateful.
#oneconistonfamily
#inthehillsofoldnewhampshire
#tomorrowisanotherConistonday