Read on to find out what our wonderful Alumni have been up to this past year!!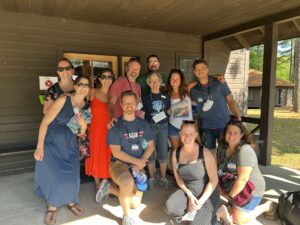 This summer we were finally able to host our 2000, 2001 and 2002 CITs for their 20 year reunion! We had to postpone these reunions the past two years due to COVID, but we were finally able to host everyone at Camp for this summer for an amazing day of catching up with old friends, exploring Camp's new facilities and a tasty cook-out! They even reunited with Sue Strebel, who was a nurse when they were at Camp and was still working this summer!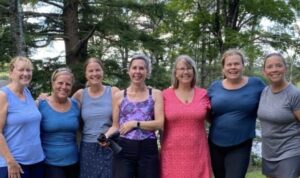 Coniston ambassador, Beth Worthington  planned a weekend reunion with Linda Pinkham Wiewel, Janet Hatfield Legro, Susie Greenwald Ammatelli, Lynn Hunter Horton, Dawn Ferguson Ighodaro and Sherrill Hill at Perkins Pond. The group also visited Camp and toured all the new facility updates.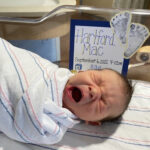 Congratulations to Hannah and Michael Slafsky for welcoming their beautiful baby Hartford on September 6th! Warner will be a great big brother!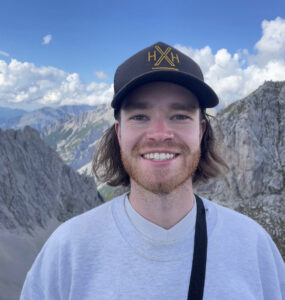 Jake Glenshaw, former Boys Camp Director, has moved to Innsbruck, Austria for year in pursuance of a Fulbright Austria Combined Research Grant. As a part of this program, he will be teaching English, taking grad school courses at the University of Innsbruck on Environmental Management of Mountain Areas, conducting independent research under advisement of Dr. Robert Steiger on climate change's impact on the ski industry's adaptability and accessibility, and working with Protect Our Winters Austria as they work to fight for further climate protection.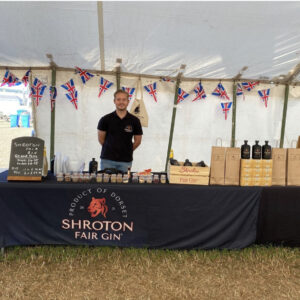 Wilfrid Shon, a former international staff member recently started his own gin business! The gin is called Shroton Fair Gin. After finishing his postgraduate study, Wilfrid returned to his hometown, Dorset Village, and spent nearly a year searching for the perfect recipe. The gin has already won multiple awards including gold in the Taste of the West 2022, and bronze at the London Spirits Awards!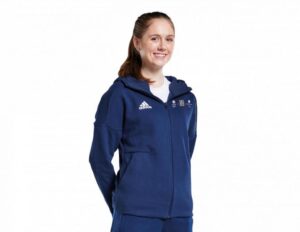 Adaleide Barnes, a 2021 CIT is now on the UK National Taekwondo Team! She has already secured two second-place finishes at the British Taekwondo National Championships and a spot on the GB Taekwondo Development Squad.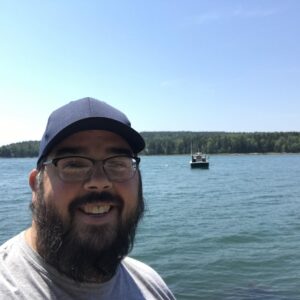 Coniston Ambassador, Eben Gannett graduated Granite State College and has become a certified teacher in NH. He is currently a 5th grade teacher at Sant Bani School. Congrats Eben, we know you will be an awesome teacher!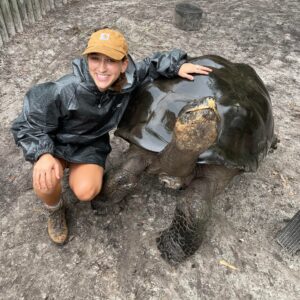 Talia Ungarelli  recently accepted a position as a zookeeper in the Tropical Forest department at the Franklin Park Zoo. Talia spent the last year working for the Gladys Porter Zoo in Texas as a Gorilla and Carnivore Keeper/Trainer.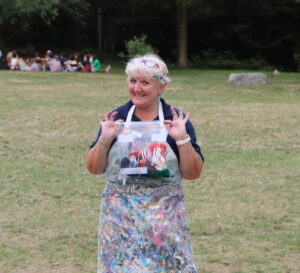 Arts and Crafts Director,
Barb Hawley is teaching classic camp arts and crafts classes in her home-state, Kentucky! Projects include yarn creations, shrink plastic art, holiday ornament making, painting, and of course tie-dye!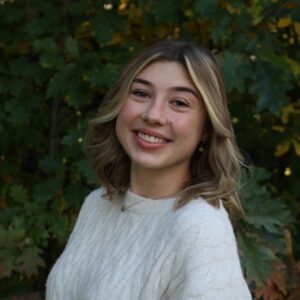 Liv Rasmussen graduated from Suffolk University with a B.A. in Advertising and Minor in Graphic Design. She recently started as the Content Specialist with Fuseideas!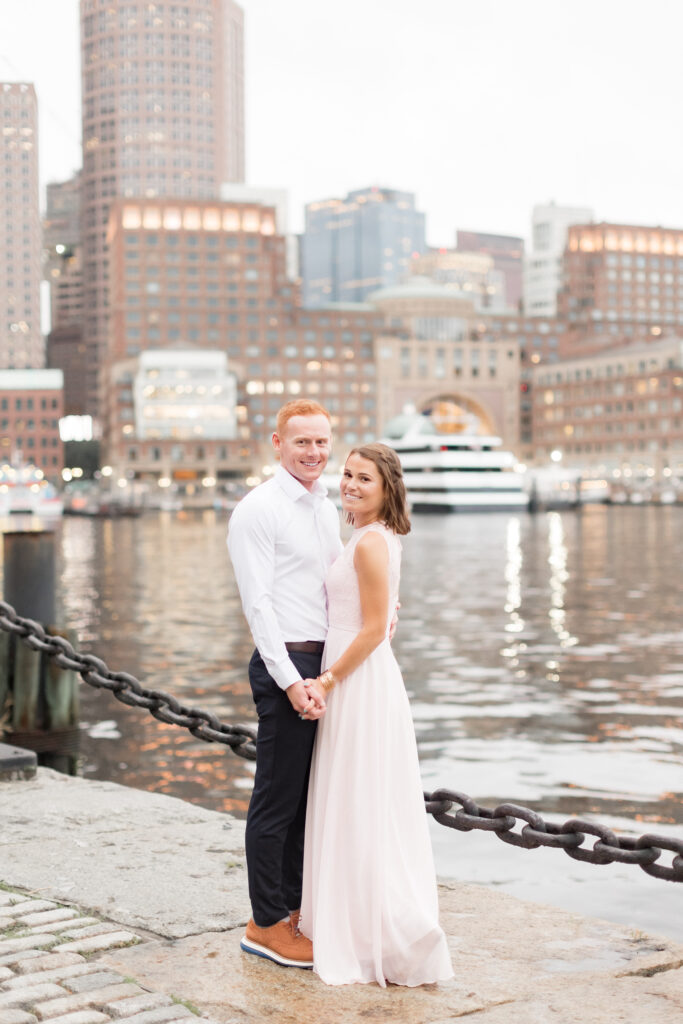 Cassie Short Cassie Short got engaged to Bobby McLaughlin. They will be getting married in June 2022!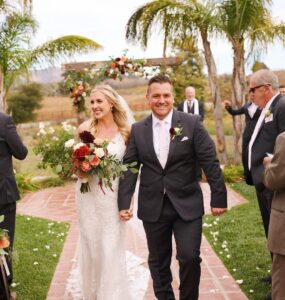 Congratulations, Guiseppi Marzelli, on his marriage
to Kaley Hansen! They were married in October last year. "Hands down the best day of my life (and really the best weekend) marrying my best friend surrounded by all our family and friends".
We wish you a future of happiness!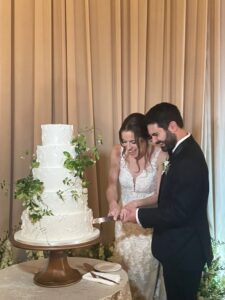 Congratulations to Ben Kamisar on his marriage to Shelby this April! The wedding was quite the Coniston reunion with Coniston alumni: Jen Evans, Emily Bensen, Michelle (Tarkulich) Faithfull, Kyle Olson, Katie Comstock, and Matt Comstock attending!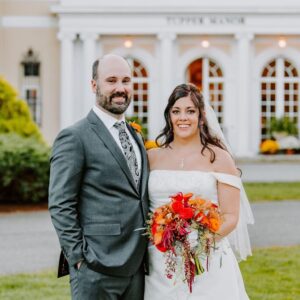 Congratulations to Coniston alumna, Ashley, who got married to Bill Jantzen last year! We hope you have had a great first year of marriage together.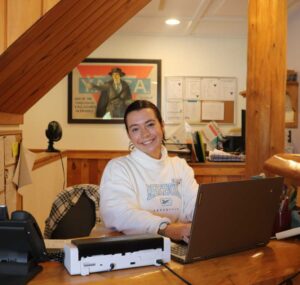 Summer Office Assistant, Sophie Burleigh, has just accepted a job as an Office Manager/PA for a wine investment company in London! Good luck with your new London life Sophie!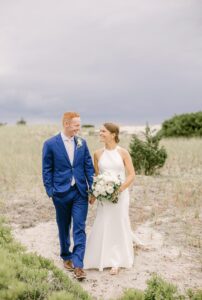 Cassie (Short) McLaughlin, a 2008 CIT and 2014/2015 CIT Director got married on June 19th! Congratulations Cassie!! We wish you both a happy future together.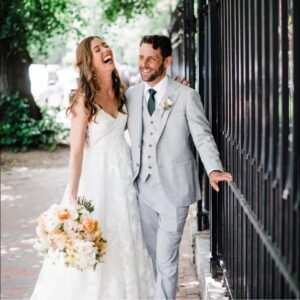 Coniston alumna, Lizbie Harbison Weeks recently got married! Congratulations Lizbie!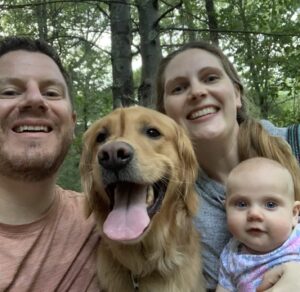 Former camper and staff member, Caitlin Elgert and her husband Dan, welcomed
a daughter (and future camper), Lucy in April 2022. Congratulations! She is beautiful.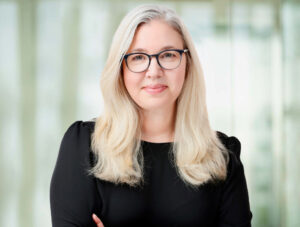 1980's alumnae, Kelly Williamson Polanco, MBA, MS has started a new job as Vice President, Head of People & Culture at Aktis Oncology. In the past, Kelly worked for Bristol Myers Squibb, one of the world's largest pharmaceutical companies. While at BMS, Kelly spent eight years living in Argentina, supporting South America, Middle East, Africa, and parts of Europe.