YOUTH AND GOVERNMENT GOES VIRTUAL 
This year, YMCA Camp Coniston staff, along with dedicated teachers, worked virtually with Stevens, Newport and Kearsage High Schools to deliver Youth and Government sessions to serve 300 teens from 30 schools throughout New Hampshire. Coniston's main role was assisting the press corps—a body of a dozen students from different districts that write, edit, and publish newspapers during the sessions. Sessions were held virtually, which allowed students to communicate differently and perhaps change the process for planning in the coming years. We look forward to the 2022 sessions this March!
YMCA Youth & Government is a national program of the Y that involves thousands of teens nationwide in state-organized, model- government programs. Students from every corner of the U.S. have the opportunity to immerse themselves in experiential civic engagement and to, quite literally, practice democracy.
THE BUDDY BENCH
YMCA Camp Coniston has a new Buddy Bench. Thanks to John Tilley for the idea, James and Aaron in maintenance for building the bench, and Session 5 campers for painting!
Our Arts & Crafts Director, Barb Hawley took it to the next level—as we like to say at Camp she Barb'd it up a bit with some friendship quotes. Barb's true mission is always to share the joy experienced while creating art and that is just what she did with us. We can't wait for the bench to see many new friendships formed on its comfort!
"Sit here and be a friend, make a friend, love a friend… give your time and your ears."
K-9 SEARCH & RESCUE TRAINING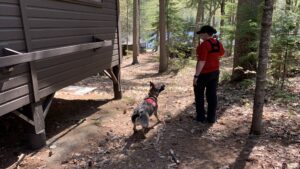 We were glad to see Northern New England K-9 Search and Rescue return this past winter and spring to use Coniston's facilities and grounds, free of charge, for training purposes. The group is the main search and rescue group for VT, NH, & ME and is called into duty when hikers and skiers are lost in the outdoors. With Camp's record breaking forty-forty inches of snow the conditions were perfect for training. We thank this group for their wonderful service in keeping the New England outdoor community safe!
HYPETHERM VOLUNTEERS
Hypertherm volunteers worked for six full days at Camp to help us get ready for the summer! Several of the volunteers were Coniston alumni and we had a wonderful time welcoming them back to Camp. We can't thank all of the volunteers enough for all of your hard work. We could not get camp ready without you!
NEW LONDON NH ROTARY
Thank you New London NH Rotary for helping us get ready for the summer! They provided us with 2,000 masks and what a difference that made! They also visited Coniston for their annual meeting at Camp the Friday before Labor Day!