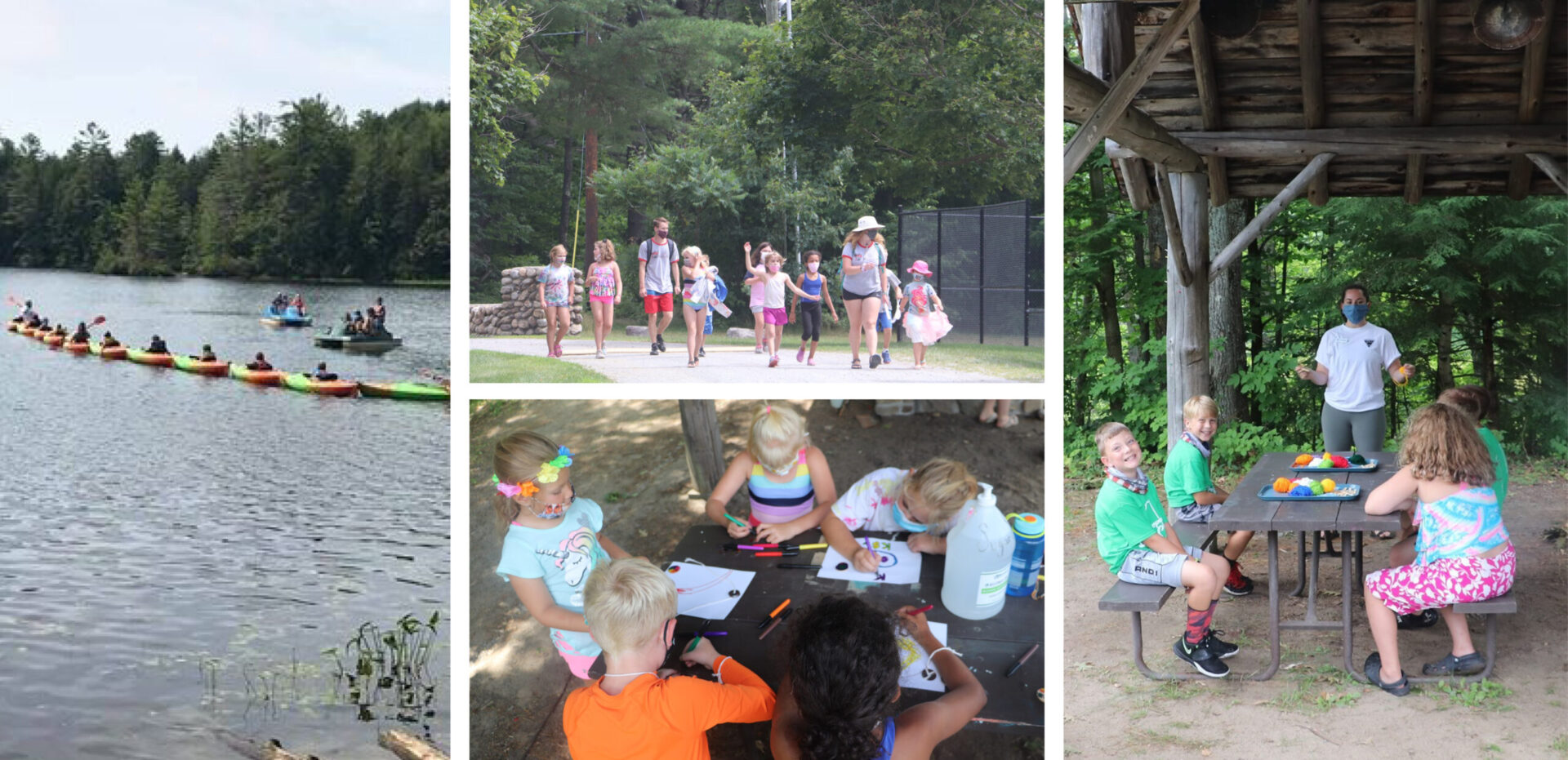 Each Thursday, this summer, campers from the New London and Newport Recreation Departments Day Camp joined us at Coniston. Permanent use of Coniston buses this summer eased socially distant transportation requirements. YMCA staff helped keep kids safe on the water and help train visiting-staff in group management. Below is an email from the Newport and New London directors.
When Coniston called to invite our camp to visit this summer there was no hesitation in my response. At the time of the call we weren't sure how we were going to conduct our camp and I was searching for activities to do with our kids. Ordinarily we would travel across the state to various attractions, but those trips were canceled due to COVID-19 restrictions.
I was ecstatic to learn that our campers would get the opportunity to experience what Coniston had to offer. I have lived in neighboring Newport for most of my life and have never had the opportunity to visit Camp. I worked in the same school with one of the camp nurses and the horseback director. Both of them rave about their summer jobs and frankly I was a little jealous.
This "hidden gem" in Croydon with the rustic cabins and the pristine lake is breathtaking. Our campers loved every minute of their visit. Of course the swimming, tie dye shirts and field games were nice, but the kayaking and archery were our campers favorites. Many had never done either activity before.
Each time I looked at our campers participating in the various activities, I kept thinking how lucky these kids are to be able to enjoy this facility and the many different outdoor adventures it has in one location. Our days at Coniston pale in comparison to anything we would have done at our camp this summer. One camper even asked if we could go back to Coniston next year. Hopefully (for your sake), this won't be possible, but if it was, I would put you on our calendar right now. This would easily replace our trips to Weir's Beach or Chunky's Movie Theatre.
Our campers live in a town without a lot of opportunity and we were grateful that they were able to get the chance to use the Coniston facility. Additionally, we were beyond grateful to have the Coniston staff available to instruct our campers without any cost to us.
Your generosity has made it possible for our campers to create memories that they will cherish for a lifetime and in a time when our campers didn't have much to be thankful for, I want to thank you for making our campers believe in the kindness of strangers.
— Becky Merrow, Day Camp Director Newport, NH Recreation Dept.
On behalf of all of the New London Recreation day camp staff and campers I would like to thank you for your part in making this summer as incredible as it was. We are immensely grateful for your generosity in letting us use not only both of your vans, but also your facilities on countless occasions. With this summer being difficult for many families and campers it was amazing to see them have the change to experience camp and just be kids. The vans gave us the ability to take daily trips to Bucklin beach, as well as trips to Mount Kearsarge, Rye Beach, Quechee Gorge, and many other locations. Without your help day camp would not have been as successful, fun, or memorable for both the campers and staff.
Thank you again for your commitment to our community! Coniston is a special place and you have opened your doors for so many! 
— Scott Blewitt, Recreation Director, New London Recreation Department