Read on to find out what our wonderful Alumni have been up to this past year!!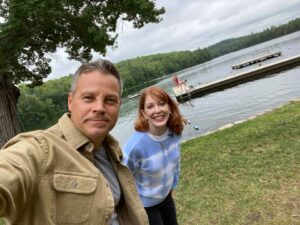 Coniston was featured on the New Hampshire Chronicle!
Sean McDonald and Audrey Cox with the New Hampshire Chronicle visited Coniston this summer to try out some of our Camp activities!
Parents speak about Coniston nationally!
Coniston parents, Abbigail Chau and Anna Caccavaro, along with John Tilley, spoke with Yahoo!Life about camp this summer in an article: Camp is back! Here's how it'll work and why families can't wait: 'This is a summer of healing for our kids'. 
John Tilley was live on New Hampshire Public Radio!
Before summer began, John Tilley was live on NHPR NH Roundup with Laura Knoy talking about overnight camp and camping.
RECORD BREAKING SNOW AT CONISTON!
On December 18th, Camp's home town was featured on Good Morning America for having gotten one of the largest snow totals in New Hampshire!
CONISTON PODCAST!
Look out for future announcements on our social media about our upcoming PODCAST!! Our Summer Camp Director, Nicole Berthiaume, has created this podcast and has been recording sessions with our wonderful summer staff about how life on Lake Coniston echoes through all of our lives. If you are interested in being a guest on our podcast please contact nicole@coniston.org.