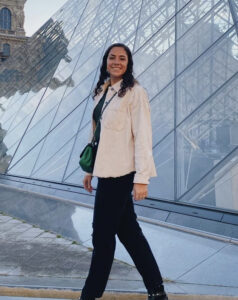 Our 2022 Girls Camp Director, Meg Davis, reflected on her favorite memories of the summer.
Summer 2022 was one of the best summers I have ever had at camp. I loved having a more influential role in both staff and camper's experiences all summer and it was incredibly rewarding to watch everyone fall more and more in love with camp every day.
This summer gave me a unique opportunity to see parts of camp I had never experienced before and think of things in a different frame of mind. Some of my happiest memories from this summer were planning activities to help staff bond, giving vespers, playing in the camper staff soccer games, cheering people on in the triathlon, sitting on program porch or main lawn and watching everyone in program areas, and watching the CITs and international staff run into the lake.
And when I wasn't always having the usual camp fun, I also genuinely loved being someone others came to for advice, providing support to campers, and critically thinking about how to best solve problems in order to improve the overall Coniston experience. Summer 2022 will forever go down as one of my favorite summers at Coniston and I feel so lucky to have had such wonderful staff and campers to make incredible memories with!