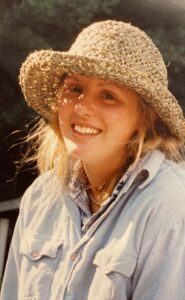 It's with heavy hearts that we say goodbye to Jessie Milne Freeman. Jessie was a camper in the 90s and then went on to become a beloved staff member. Jessie continued her work with children at Sunapee elementary school, and most recently at James House, in the preschool of KRSD.
Many people have since donated to YMCA Camp Coniston in her memory. We were truly honored to have Jessie be a part of our community and we will miss her dearly.
"Naming Camp Coniston as one of Jessie's suggestions for gifts in her memory was an apt memorial for our daughter, who died in June at the age of 43. Camp is the opportunity for kids to discover that they can conquer their fears while sharing outdoor fun with others. Coniston does this masterfully. 
Jessie was a fourth child and only girl who followed her older brothers to Camp Coniston as a camper. She loved swimming, dancing, riding and singing at Camp, but even more so, she bonded with her fellow (cabin 8) campers as sisters.
When she returned a decade later as a counselor of riding, Jessie loved her job, helping kids learn to have fun and be safe with large animals. She was a cautious instructor who encouraged the riders in her care to consider the horse or pony as their partner in learning. The experience colored her life's journey toward teaching, the study of human development, and motherhood. She often spoke of her campers' successes and felt honored to be connected to Coniston in two ways.
After her initial diagnosis of melanoma 16 years ago, Jessie attended two retreats for cancer patients and survivors herd at the Kripalu Yoga Center. A favorite counselor there was Dr Joan Borysenko of Harvard, who credited overnight camp "under the pine grove" as one of her most important formative experiences. As she studied and taught, Jessie followed Dr Borysenko's writing and research on the mind-body connection, gently guiding children through challenges at school and her son at home.
It is her family's hope that Coniston will continue to give kids and young adults camaraderie and a strong start to productive, nurturing lives."
– Dale Milne, Jessie's father