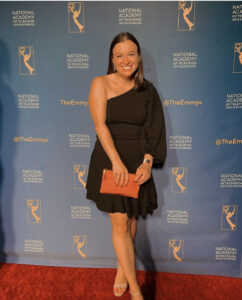 How old were you when you started Camp?

How were you introduced to Coniston?
Lots of kids from the town I'm from (Arlington, MA) started going to Coniston around the time I was in middle school, and word spread!
Did you attend college, and if so, what did you study?
I went to Villanova University, and studied Communications with minors in Peace & Justice and Global Health.
What is your current job? 
I'm a Field Producer at ABC News Studios. Studios is the Longform division of ABC News, and my team produces documentaries and news-adjacent series and specials for both Hulu and the ABC network. My job is to go out into the field and produce shoots: I conduct interviews, collect b-roll, manage camera crews, scout locations, handle on-set logistics & more.
How has your career journey evolved?
I went into my senior year of college with NO idea what I wanted to do when I graduated. I took a class senior year called Social Justice Documentary Filmmaking, and my class essentially functioned as a production company, traveling to Ethiopia to shoot a doc. We developed, shot, edited and premiered the doc over my senior year, and I pretty quickly realized that nonfiction production was something I could really see myself building a career around. The summer after I graduated, I moved to New York City and was lucky enough to find a job at ABC as an executive assistant in the Longform group. I was able to get assigned to some shows in production pretty quickly, and went from being a production assistant to a production coordinator to an associate producer to what I do now – field producer.
What moment in your career are you most proud of?
I worked on a pretty groundbreaking (and now Emmy-winning!) show for ABC called Soul of a Nation, looking holistically at the Black experience in America over the course of six themed episodes. I was the series coordinator, which meant that I worked on a sub-team that planned and executed all of the shoots for the series (over 150 shoots in 5 months), and I spent a lot of time traveling & in the field, which definitely laid the groundwork for my current job. Soul was a moonshot venture, and it was challenging (making TV in the height of a pandemic!!!), but also truly rewarding and I was so, so proud to be a member of that team of passionate and crazy strong storytellers. It's on Hulu if you wanna watch!!
Did Coniston influence your ability to create this journey?
YES. I've joked with both coworkers and camp friends that being a television producer is like being a camp counselor on steroids.
Are there any skills or traits you gained at Coniston that you use in your professional life?
"Fake it til you make it" is the number one mantra I use when I'm in the field. When I have multiple 16-hour shoot days in a row, I find myself having to dig deep for energy and slap a smile on my face until I trick myself into believing it… just like fourth session. Also, this sounds crazy but I have to use my "counselor voice" on set constantly (let me tell ya it really feels different when you're in the real world and not corralling middler girls).
Are there any specific memories from your time at Coniston that are still impactful to you?
Yes!! I'm still very (very) close with lots of people from Coniston. I think all the time about my summers at camp and I'm so lucky that there's such a strong NYC contingent. One memory I'll call out is the last period of the last day of fourth session my last summer as a counselor. A snapping turtle and the thickest most massive leech I have ever seen showed up to gfro within 30 seconds of each other and the campers went nuts. I think about that every single day. It's a great metaphor for producing tv actually.