We recently received the letter below from a child expressing her gratitude on receiving a camperships from our annual fund. Gifts of any size are truly changing lives and making a life-long impact. Thank you.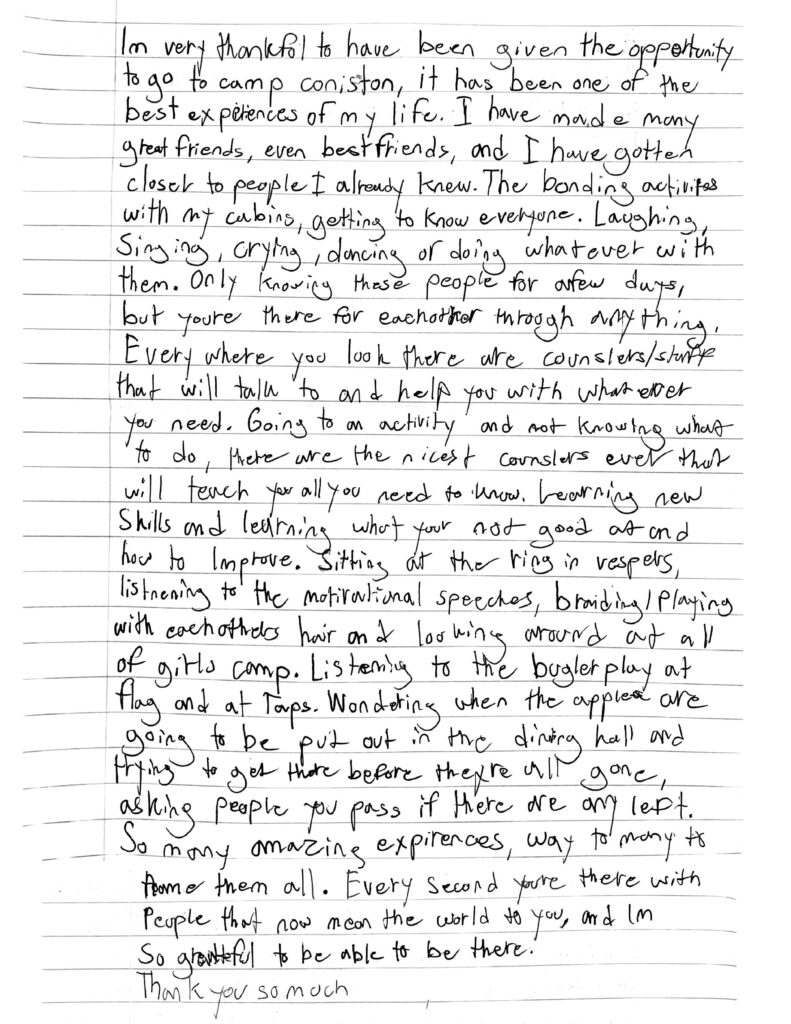 Over the past four summers Coniston has achieved quantifiable success in diversifying our camper population through a combination of outreach, funding, recruitment, and retention described in previous answers. We are most proud of increasing our financial assistance by 125% over the past four years, giving camp experiences to more kids.
At YMCA Camp Coniston we believe that character counts. Building character, confidence, and perseverance under the leadership of positive role models in a safe and encouraging environment is core to our Camp experience. Through immersive outdoor summer experiences, campers gain self-confidence, learn to adapt to new situations, develop life skills, and make new friends. Campers may not realize it all at once, but the benefits of Camp go on forever. What we do is simple, yet transformative.
Now more than ever, we have a responsibility to build and equip the next generation to not only grow, but thrive as leaders in a rapidly changing world. Our efforts to bring the YMCA Camp Coniston Community together from across NH towns, and the world, are worth it. People need connections with each other. Summers together help heal the effects of stress. Camp is bigger than any of us and the impact is life-long.
Gifts can be given to children through Coniston in many ways:
Check or Online
Reoccurring Credit Card Gift
Multi-Year Pledge
Estate Gift
Stock or Mutual Funds
Matching Gifts
Corporate/Foundation
Philanthropic Gift
Life Insurance Policies
If additional information is needed to help your gift-giving process go smoother, please contact lindsey@coniston.org.