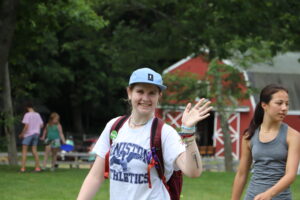 As some of you may know, I go to Northeastern University in Boston. Northeastern has something called the co-op program which means that instead of taking classes for a semester, you work a full time job in whatever your major is. Every student at Northeastern does at least one co-op, and most do two or three. To get a co-op, you have to do the whole process, from writing and sending out your resume, to interviews and onsite visits. This past fall I was in the process of applying for my second co-op.
I had interviews with a few different companies, but there was one that stood out to me because during the interview, I couldn't stop thinking about how cool everyone was. In particular, the woman who would be my manager made me really want to work there. She had long purple hair, a cat who she affectionately introduced to me as Ron, and she told me all about how Ron had cat diabetes. She also told me how awesome it was that I worked at a summer camp, and she asked me what the craziest thing that had ever happened to me at camp was. By the end of the interview, I was sure that I wanted to work there, and at the end of that week, they offered me the job, and I accepted right away.
I started working there in January, and immediately it was everything I had hoped it would be. My team was made up of 5 people, including me, and every day was filled with laughter, inside jokes, and races to finish the New York Times sudoku. I never thought I would love a "real job" as much as I loved working at camp, but this came pretty darn close. Beyond my wonderful coworkers, I was also fascinated by the work I was doing, and every morning I woke up excited to go to work.
So, on Wednesday, May 3rd, I woke up and drove into work, just like I had been doing since January. I made my coffee and sat down to join a 9am company-wide meeting, and at the end of that meeting I was laid off. I lost my job. Something had happened with the company's stocks—I didn't really understand it then and I still don't understand it now, but basically they ran out of money and laid off 25% of the company, including all 6 co-ops.
For me, it was one of those moments where I couldn't quite process what was happening. It was so sudden, and all there really was to do was pack up my desk and go home. As I slowly began to understand what had just happened, all of the emotions that you might expect someone who just lost their job to feel started to creep in. I was sad, I felt helpless, I couldn't stop thinking about how unfair it was, and I had already begun to miss the friends I had made. My predictable next step was to crawl into my bed and start to cry about it. Which I did.
I also started texting some people. First, I texted my parents, saying something along the lines of "all of the co-ops just got laid off." My dad, ever the quick responder, fired back right away with: "So no job 4 U?" Very helpful, thank you dad.
I also texted my coach, because I had practice that night, but was definitely not feeling up to going. I explained what had happened, and he responded with: "Huh? They can't do that. Co-ops can't be laid off." Also extremely helpful, I know.
I also texted my roommates and friends, and their responses were a lot better, but none of it really made me feel any better. So, I told myself that I would take that day to cry and to be sad, and that starting the next morning, I would endeavor to make the best of it. I thought about all the things I would do with my newfound free-time: clean my room, plant a garden, mop the floors, train for a half marathon, bake lots of yummy things, read lots of books, go to the gym all the time etc. etc. etc.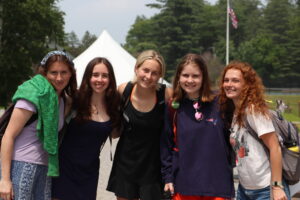 That did not happen. The next morning, I stayed in bed and continued to mope. I was trying so hard to be nice to myself, to bounce back, and to make the best of a bad situation, but it just wasn't working. Fast forward a couple of days, and I was determined to have a good day. I got up early and went for a run in an attempt to force some serotonin into my body. It was a beautiful spring day, and by the time I was done I was feeling better than I had in days. I decided to stop and get myself an iced vanilla latte as a little treat. So, I got my latte, walked back to my apartment, climbed the stairs up to the second floor, went to unlock my door, and dropped it.
The whole thing spilled all over the floor. Unfortunately, this mishap sent me spiraling right back into my funk. I got back into bed and cried. Like, sobbed. I actually cried harder about dropping my coffee than I had about losing my job in the first place. I felt so fragile, and in that moment, I was sure that it would never get better.
Well, Camp Coniston, here I am, sitting in front of you today, telling you this. It got better. It took a while, but eventually my days started to get good again.
What got me through it was time, and not much else. For as long as I can remember, whenever I have had a hard time, or been going through something, it has always brought me comfort to picture some version of myself, however far into the future, that was no longer struggling. Because, the truth is, it really does always get better. The days march on, and the days get easier.
Losing my job marked the end of my third year of college. When I was a freshman, and really also when I was a sophomore, I really had a hard time at college. I started in Fall 2020, when covid was still going strong, and it did not go great for me. I was unbearably lonely, and I struggled to feel that I belonged. Through that time, there was a song I would listen to that made me feel better, even when I was at my lowest. The song goes:
"She knows she lived through it to get to this moment."
I would tell myself, as I sat on the floor, wishing for a different life, right now, I'm living through it, but someday, I'll get to my moment. And, spoiler alert, I did. It got better.
I'm going to leave you all with this last little tidbit. One of my best friends at school, at some point along the way, started saying this little phrase whenever she was struggling:
"I can do hard things."
Or, "We can do hard things."
Or, "You can do hard things."
It has become my personal mantra, and let me tell you, it really works.
Camp Coniston: You can do hard things.
So, next time you are faced with a calculus test; or a hard workout; a broken bone or a broken heart; a really, really long day or a really, really long semester, remember: You can do hard things, and it gets better.
Song: Graceland Too by Phoebe Bridgers