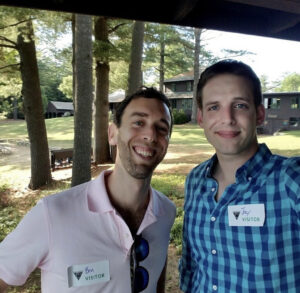 How old were you when you started Camp?

I was 12 when I started at Coniston. I went to Coniston from 1999-2002 as a camper, was a CIT in 2003, was a counselor from 2004-2008 and then came back in 2010 as a West Coast CIT Director, and for 2 weeks in 2012 as a West Coast CIT Trip Leader.
How were you introduced to Coniston?
My friend's mom called my mom in the spring of 1999 and asked if I wanted to go to Coniston with him. I had gone to another overnight camp for two previous years, but the camp shutdown after the summer of 1998. My mom convinced me to try Coniston and the rest is history!
Did you attend college, and if so, what did you study?
I attended Denison University in Ohio and studied History and Communications.
What is your current job? 
I am the Director of Field Sales at Panorama Education.
What does your organization do? 
Panorama's mission is to radically improve education for every student. We do that by ensuring that district leaders, school leaders, teachers and counselors have access to actionable data to support positive outcomes for students. School districts work with Panorama to better understand students' social-emotional learning, student academic performance, school climate, family engagement and/or teacher/staff well-being. My team works to partner with the largest school districts and state departments across the country to broaden and deepen Panorama's impact. 40 of the 100 largest school districts in the country currently use Panorama in their schools, which means they run Panorama surveys, look at results on Panorama's interactive reporting platform and/or manage student interventions on Panorama's intervention management platform called Student Success.
How has your career journey evolved?
I began my career as a teacher with Teach for America. After two years of teaching middle and high school students in Philadelphia, I spent the next five years bouncing around other student-facing roles. I worked at a mentoring non-profit and at two charter schools in the Boston area as a career coach and again as a high school teacher. Student-facing work was incredibly meaningful, but I often found myself exhausted and unsure as to whether I wanted a career in teaching or counseling. Going to Panorama and working in sales was a huge leap of faith. I figured it would keep me close enough to education given the company's mission but would allow me to lean into more of my strengths and to enjoy more of a work-life balance. Six years later and I'm still at Panorama. We've grown from 40 to nearly 400 employees and I've gone from a sales rep to a sales manager to the director of my team. I can't wait to see how Panorama and I grow into the future!
Have you met any Coniston connections on your career journey?
Wild enough, yes! I was the only Conistonian at Panorama when I joined. I'm now one of six. Alison Rowe, Francesca Grandonico and Jesse Larson all work on the sales team with me. Lauren Hickey works on our Client Experience team, and Elizabeth Good works on our People Team. Sometimes Panorama feels like one big program area!
Are there any skills or traits you gained at Coniston that you use in your professional life?
Camp taught me how to be creative, to show compassion for others and that a little kindness goes a long way. I try to bring creativity, compassion, and kindness to each day of work.
Are there any specific memories from your time at Coniston that are still impactful to you?
As a camper, a rainy day in 2001 sticks out. We were stuck inside our cabin when our counselor, Matt Bagley, told us to throw on rain gear and follow him. We went to the A Field and played whiffle ball in the pouring rain and had the best time. I learned that day that as a leader you should bring enthusiasm and joy to as many moments as you can, because others will follow you.
As a WCIT Director I remember a conversation with my co-director, Caitlin Elgert and our trip leader Rachel Foley. I wasn't very outdoorsy – my greatest survival skill was finding us the nearest gas station. And so I was very self-deprecating about that. They pulled me aside and told me to be more confident in my abilities and that I was meant to be leading our CITs and that our CITs should know that, too. I think about that a lot as a leader of a team now. Even if my role sometimes feels too big for me, I lead with as much confidence in my abilities as I can. I learned that from Caitlin and Rachel.