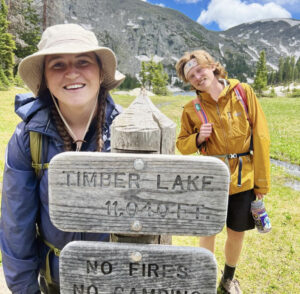 I'll be honest, I am a little nervous to be sitting here in front of all of you. The last time that I sat in this exact place giving a Vespers was three years ago in the summer of 2019. So today I want to tell you guys the story of how I ended up back here sitting in the vespers ring, years after my last summer at Camp.
There is a particular conversation or phrase that I hear a lot, which is that one day we will all have to move past places like Camp and enter the "real world".
One day we will be too old, or need to focus on school or a career rather than coming back to Camp every summer. I'll be honest, for a long time I told myself the same thing. That Camp was a representation of my childhood and one day I would have to let go of this place in order to "become an adult". But Camp has always been a part of my life, and a source of comfort for me. The idea of having to let it go was one that weighed heavily on me.
My last summer on staff was in 2019, and it was one of the hardest summers in my life for a multitude of reasons. I was entering the tough transition from high school to college, I had to stop rowing (which had been a dominating part of my life up to that point) and I was still processing the sudden deaths of several close friends and mentors. My life outside of Camp had changed dramatically and I had personally changed dramatically, but I expected myself to be the same person and the same counselor I was the year prior. I left Camp that summer frustrated with myself, feeling defeated and insecure about my abilities. But I knew how much I loved this place and what it meant to me, so I still planned to return in the summer of 2020.
When Camp was cancelled for the summer due to the pandemic, I took it as a sign. Maybe I kept coming back to Camp each summer because it was a comfortable routing, and instead of having to make the difficult choice to stop coming back myself, it was made for me by COVID.
Maybe it was time to start planning for the future and to look for internships and jobs that were more specific to my future career path. So that's what I did. I spent my first two summers in over 10 years away from the lake. Of course I missed being here at Camp a lot, but I had this idea that because I chose to not come back that my summers at Coniston were over completely.
In the two summers I was away, I lived pretty much an entirely different life. Last summer I had the opportunity to work as an investigative intern for a very small, very understaffed civil rights department within the Colorado State Government. During that time, I was able to do some incredibly interesting and inspiring work. However, even more interesting to me, was how much I looked back at my time at Coniston to help me in what seemed like the polar opposite work environment. The lessons I had learned at Camp pushed me through my internship and helped me in ways I never expected. Again in the fall, I found myself using the skills I learned at Camp when I went abroad to South Korea for 5 months. Never in a million years did I expect to be comfortable enough to be alone so far from home, but I had lived at Camp every summer for 10 years! So why not?
After all that, I wasn't surprised to find myself sitting down in December, and opening up the application to be a CIT Director this summer. Although I originally believed that the pandemic had ended my time at Camp, it is what actually brough me back here.
In my time away from Camp, I found my love for Camp again. More importantly, I learned how to love myself again.
I realized that to grow and change as a person did not mean giving up or turning your back on the places and experiences from your past. Evolving as a person doesn't make you someone new, and places like Camp can never just be left behind as symbols of who we once were. I have and will continue to have Camp as a part of myself, just as all my experiences in life have become a part of me. Several years from now, maybe when I choose not to spend my summer on the lake, I won't see it as me leaving Camp behind. But rather bringing everything that makes this place special and everything I have learned along with me.
And I hope regardless of where you all see yourself in 5 or 10 years, that you will continue to embrace the things that make you who you are. Because there is no difference between "Camp" and "the real world". They are one in the same.