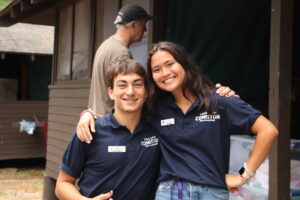 Staff raises money every year to send a camper to camp through the Staff Campership Program. So far, more than 50 counselors have contributed to the fund, and for some, the program hits very close to home.
Boys Camp Director, Nate Levine, stood up in front of every staff member and described a counselor. One who always has a smile on his face and no matter how difficult the job, he gets it done. At the end of the speech, accompanied by an eruption of applause, he gave Colby, a first year counselor, the staff member of the week award along with the coveted red Yeti cup.

Colby came to camp 9 years ago, when he was 8, on a campership. Now, he's a staff member being recognized for his dedication to camp.
Growing up, Colby hopped around to different cities in New Hampshire — Sutton, Dartmouth, Sunapee, New London and then back to Sutton.
"Coming [to camp] and experiencing all these new people, and all these new opinions and all these new friendships really exposed me to — 'Oh, wait, maybe being your own person is good,'" Colby said.
He said at camp, he found "role models" for the first time.
"I would not be who I am today without [the campership]," Colby said. "People I met my first year at camp I still talk to and communicate with. I had role models that I never really had and was just exposed to good, solid people."
Colby said camp shows kids "straight-up love."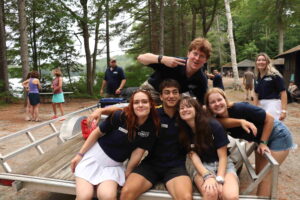 "It's good to bring [kids] to a place where they're surrounded by positivity. It gives them the best two weeks of their life," he said.
Don't be surprised if you don't hear people calling Colby by his name.
When he was younger, Colby walked to vespers in the mud without shoes on and stuck his toes out. One of his favorite counselors started calling him "troll." The simple act of getting a silly nickname, a popular tradition in boy's camp, made him feel like he was part of community. The nickname still sticks to this day.
"I felt like I belonged," Colby said. "I wouldn't be who I am without this place."
"Camperships give such a good opportunity for kids who wouldn't normally be able to come to such a great, amazing place like this because of their financial boundaries," Colby said. "As one of those kids growing up, if I wasn't able to come here, I would 100% be so much worse off."
Now as a counselor, Colby can give back.
"The counselors treated me so well, like a real person," Colby said. "Now I'm able to give those same kids that same respect and appreciation. I really feel like I'm giving back because honestly, I probably owe that to this place."