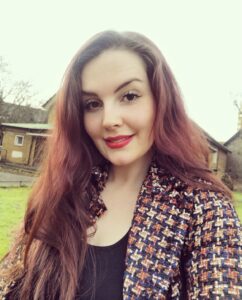 How old were you when you came to Camp and what was your job role?
I was 23 years-old and I came to Camp to work as one of the Drama Directors.
Why did you choose to work at Coniston?
I graduated from university and I wanted to travel to America to experience what it was like to work at camp for the summer. When Camp Coniston got in contact with me about a job opportunity, I was thrilled, I did my research and Camp Coniston really stood out to be a wonderful place. 
Did you attend college, and if so, what did you study?
Yes, university. I studied Musical Theatre.
What is your current job? 
Health Care Assistant.
How has the pandemic affected your job?
The Pandemic affected our normal way of working. We were introduced to wearing masks daily and having to social distance during the pandemic. Fearing that we could catch the virus at work and bring it home to our own families. The residents' families were not allowed to visit their loved ones, which was very hard and especially on days such as Christmas day/birthdays etc. We did everything we could to make sure residents were in contact, through technology and facetime. I work with residents who suffer from dementia, the pandemic meant that days out and entertainment in the home were cancelled which is what brings them joy. 
The team worked so hard together during the pandemic, we had staff members taking on extra shifts because of staff shortages due to having to isolate. Staff were mixing jobs and all helping out with housekeeping, gardening, activities, and staff being bus drivers to pick the staff up from home so we wouldn't have to get public transport.
How has your career journey evolved?
Since University and Camp, I decided to take a new career path. Originally, I was starting my own business as a performer, singing at weddings and parties etc. During this time, my Grandad got ill and I had to help my Nan care for him. This lead me on to the path of wanting to become a carer. 
I used to sing around the care homes in London and it made me want to ask about jobs.
I am now a full time care worker. I work with war veterans and their families/partners. I also sing at the home I work at for the residents, which has brought joy to the home during the pandemic.
My future plans are to progress in my job and become a Nurse. 
Are there any skills or traits you gained at Coniston that you use in your professional life?
Camp Coniston gave me skills which I have taken and use in my daily life. Coniston gave me confidence and the most important thing, believing in yourself. 
Are there any specific memories from your time at Coniston that are still impactful to you?
My time at Coniston is such a wonderful memory for me that I will never forget. Coniston is a place where you can be yourself and this is the reason why I loved it. Coniston was a place where your worries disappeared. 
A few memories that will stick with me: When we first arrived, the staff were so lovely. Being an international staff member I felt very welcome and we went on a week of trips to bond with out team members. The ice cream social, what a wild time. A whole lot of fun, laughter and dancing. The fireworks at the end of the session, just wow, emotional and beautiful!! Women empowering other women to be strong. And FINALLY… CHIPWICHES!