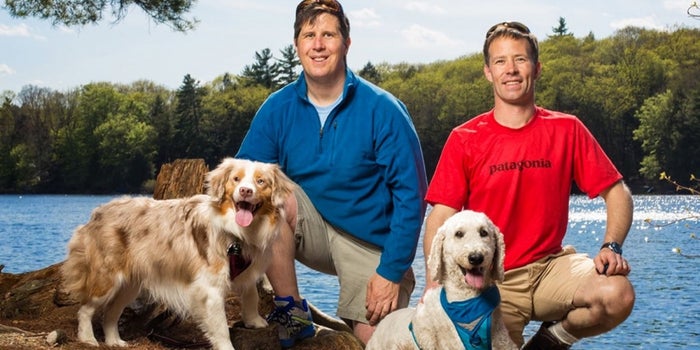 How old were you when you started Camp?
We both started when we were 8 years old.
How were you introduced to Camp?
Our neighbors from Chester VT, the Masses (Amy, Andy, and Cathy) all went to Camp Coniston. Our parents owned a business in town and worked 6 days a week, in the 80s there weren't a lot of supervised activities for kids to do in the summer, so camp was an awesome option.
Did you attend college, and if so, what did you study?
Kitter: BA – University of Vermont – Studio Art and Anthropology and MID – Pratt Institute (Masters of Industrial Design)
Gordie: Studied Economics and Political Science at the University of Vermont and then went on to specialize in business with an MBA.
What is your current job?
In 2003 we started a pet products company together called Kurgo Dog Gear. Kurgo was focused on creating gear that makes it easier for dogs and their owners to get outside and enjoy adventures together. We created car products for dogs (seat covers, safety harnesses, etc.) and a full range of outdoor gear like backpacks, running harnesses and lifejackets for the dog. Kitter's primary responsibility is user-based research, product design, manufacturing and marketing. Gordie oversees the business operations which includes managing their team in Salisbury, MA and selling to our customers such as Petco and Petsmart.
How has your career journey evolved?
Kitter: When I was a kid, I wanted to be a Lego designer and run my own company. Although I have had a number of varied jobs – I've been a ski instructor, prep cook, a graphic designer, and started a few companies – I have always come back to the essence of this childhood dream of being engaged in design, innovation, and entrepreneurship.
Gordie: I started my career in NYC doing advertising. It was during a work weekend at Coniston that I determined I needed to move out of New York. I moved to Sunday River as the Marketing Director and then to Boston to business school. Since I graduated I have helped to found three companies.
Did Coniston influence your ability to create this journey?
Kitter: As with many of us, my first job was a counselor at Coniston. The early experience provided me with a solid understanding that a job can be tough, fun and fulfilling all at the same time. This early experience has guided me in making a company that had purpose for the people working there.
Gordie: Coniston gave me the confidence at a young age to be myself and try new things. Camp Coniston was one of the most formative experiences of my life.
Are there any skills or traits you gained at Coniston that you use in your professional life?
Kitter: Leadership, creativity, adaptability, pivot, make it fun. It was always been part of my camp experience to make sure that the campers and staff had a good experience. This has stuck with me whenever making a product, working with clients, managing people and making sure the end consumer is happy with their purchase.
Gordie: I am pretty good at meeting new people and getting along with them. Seems cabin life is a perfect training ground for my job at Kurgo
Is there a specific moment or example from your career that you used these skills or traits?
Gordie: When we started Kurgo I literally had to go door to door selling our products and dealing with all the different types of customers I ran into. Meeting cabinmates on the first day of the session was pretty good training for those early days at Kurgo.

Are there any specific memories from your time at Coniston that are still impactful to you?
Kitter: One of the lifeguard training tests was to hold a brick over your head and out of the water for 2 minutes. At that age I was a sinker and couldn't for the life of me tread water for two minutes with a brick over my head. I learned that sometimes you need to adapt and pivot, I held my breath for two minutes instead of treading water. Oh, I also met my wife, Erica at Coniston.
Gordie: I loved Dirty Night, it was a license to laugh a lot and play in the mud.