By Girls and Boys Camp Directors — Fran and Will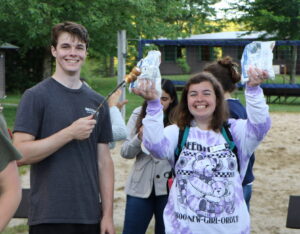 Summer is finally here! This Monday, we warmly welcomed all of our program area directors to camp and couldn't wait to kick the summer off—the best news however, was that every single director who arrived was fully vaccinated!
Although we had been at camp for about two weeks, we didn't realize how much we needed the smiling faces of our old friends to finally let us take a deep breath and enjoy a sense of normalcy. It felt like Coniston again. There were hugs, laughs, recaps of our years of memories—it was camp.
The deep breaths did not last for long, as there was much work to be done the next morning. We started the first day of training with a meeting in the Pavilion, which gave us the perfect opportunity to christen a few of our brand new benches! Our wonderful maintenance staff, Aaron, James, and Dave, have been spending a large chunk of their time building over a hundred new benches for camp this summer. As Session 1 suddenly seems not so far away, we are happy to say that we now have enough benches to seat every camper and staff member in a safe and socially-distanced manner. We plan on using these benches for events and traditions such as the Talent Show, Vespers, Campfire, or really any large group activity. Middler Division Leaders Annie Gallivan and Cami Auger shared their thoughts on the new seating after their meeting with us, "They are very versatile, we are actually using them in the S'mores Social this evening" Annie shared. "We really feel like they could bring us together even if we have to be six feet apart," noted Cami.
After our first meeting it was off to the races. We sent the directors to their program areas to take inventory, do some house cleaning, and get in any last minute purchase requests. "I'm really excited about them, actually! We've had some issues with durability in recent years but I think these ones are going to make it through the summer, and hopefully longer." remarked Leadership Director Noah Glenshaw upon the delivery of his newest shipment of dozens of outdoor basketballs. Noah also shared how proud he was of the hard work done today, noting two first-time directors in particular. Ecology director Hayley Horton did such a thorough job taking inventory she actually needed to print out two more inventory forms! Basketball director Ryan Doebele spent his day grinding on the courts, rake in hand, sweeping two-years-worth of leaves into heaping piles.
After a few more meetings with our CIT Directors, Lifeguard aficionado Izzy Caruso, and John Tilley, we are wrapping up our first day and heading to dinner where Chef Mike has prepared some chicken and veggies. Tomorrow we are back at it again, preparing program areas and writing lesson plans. We absolutely cannot wait for the rest of our staff to arrive tonight! Let the games begin.