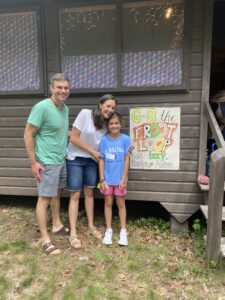 How old were you when you started Camp?
I was 9 years old, 1990.
How were you introduced to Camp?
A family friend told my parents about Coniston and we were signed up to go together. At the last minute, they switched sessions and I ended up going alone that first year.
Did you attend college, and if so, what did you study?
Assumption University-Liberal Arts/English (2003)
Northeastern University—Masters in the Arts of Teaching: Elementary Education (2006)
What is your current job? 
I currently work at Milton Academy in Milton, MA as the K-5 Math Instructional Coach.
How has your career journey evolved?
Interestingly enough, my first job after graduating from college was at a YMCA as an Aquatics Director. However, I knew I wanted to be a classroom teacher and quickly returned to graduate school to pursue my degree in Elementary Education. I have taught Grades 4 through 6 in Boston, New Hampshire, Virginia, and Massachusetts in both public and private schools. 
Beyond classroom teaching, I have served as a mentor to new teachers, am a certified CFG coach, and have done a great deal of curriculum development work across all content areas. One of my passions is the creation and delivery of professional development for educators, both within the school setting and at conferences across the county. I took advantage of every opportunity I could to serve as a teacher leader, which brought me to my current role as an Instructional Coach, supporting classroom teachers to hone their pedagogical skills, increase student engagement, and deepen their understanding of K-5 mathematics.
Did Coniston influence your ability to create this journey?
Without a doubt. The through-line between being a camp counselor and becoming an educator felt organic, so it is challenging for me to specifically identify how my journey was influenced. However, my experiences at Coniston working with campers of all ages, in a variety of situations, most certainly served as a solid foundation for working with elementary aged students. 
Working as Waterfront Director and LIT Director in my early 20s, provided me the chance to develop my communication and leadership skills. I was working with counselors who were working with campers, which has a direct influence on my current position—working with educators as they work with students.
Are there any skills or traits you gained at Coniston that you use in your professional life?
Growing up, Coniston was my safe place. I built relationships with my counselors and fellow campers that increased my willingness to take risks I wouldn't have taken otherwise. This had a direct impact on my self-confidence. As educators, we know that in order for children to be successful they must feel safe in their learning environment. In order for that sense of safety to occur, educators must prioritize relationships with their students (and their students' family) to cultivate a sense of trust. Relationship building is foundational in all aspects of my career. The relationship a student has with their teacher is the most important indicator for student success.
Are there any specific memories from your time at Coniston that are still impactful to you?
Having attended Coniston for 14 years and meeting my husband, we have countless memories that have impacted our lives. But honestly, dropping our daughter, Molly, off this summer (2021) for her first year at Coniston feels the most impactful. We are thrilled to be able to share such an amazing place with her and can only hope it impacts her life the way it has impacted ours. We have truly come full circle.