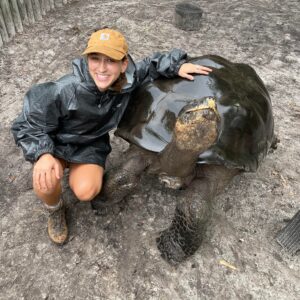 How old were you when you started Camp?

I was 8 when I first came to Coniston.
How were you introduced to Coniston?
My family introduced me to Camp!
Did you attend college, and if so, what did you study?
I attended the University of Vermont and studied Animal Science with a focus on wildlife health and conservation.
What is your current job? 
I currently work for the Gladys Porter Zoo, as a Zookeeper – Gorilla and Carnivore Keeper/Trainer.
How has your career journey evolved?
I had the intentions of becoming a wildlife veterinarian but after an internship within a veterinary practice I discovered I wanted my approach to animal health to be preventative with a stronger focus on conservation. I was given the opportunity to explore and work in different zoo facilities through college classes and an internship program at ZooTampa at Lowery Park. Those experiences provided me with a strong foundation to enter my current job as a full zookeeper and trainer at the Gladys Porter Zoo.
Did Coniston influence your ability to create this journey?

Coniston most definitely influenced my ability to create this journey. Through being a camper and staff member, I was able to become not only a strong leader but play a supportive role in whatever group I found myself in. With these foundational skills I was able to work hard and prove myself as a valuable asset to the various teams I've worked on. Being a part of the Coniston summer staff I was able to set goals for myself to work towards on an individual level and I find myself still setting goals for myself throughout all of my endeavors.
Are there any specific memories from your time at Coniston that are still impactful to you?
Any and all of the moments that as a group or as an individual we were told to take a moment of pause and look around us. These moments were so special to me as a camper because I remember being filled with so much gratitude for being a part of a space so safe and accepting where I could grow as an individual. I appreciated these moments even more when I was able to share them with my campers. I believe these moments are still impactful because I find myself needing to pause and really take in the moment. In the hustle of the day, or in the middle of a difficult project at work it is easy to forget how lucky I am to be in a career doing what I love and forming relationships with endangered species.