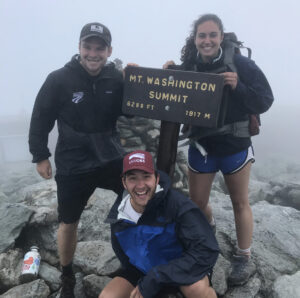 How old were you when you started Camp?

Age 8!
How were you introduced to Coniston?
My Dad worked there.
Did you attend college, and if so, what did you study?
Briefly. I studied Vessel Operations and Technology at Maine Maritime Academy, only for a semester.
What is your current job? 
I currently work as an Account Executive at Ecodaptive. 
How has your career journey evolved?
I've worked numerous jobs from bartender, landscaper, music venue manager, tugboat deckhand, solar panel sales rep, and almost anything else you can think of. Wouldn't have done it any other way.
Did Coniston influence your ability to create this journey?
Coniston gave me the ability and confidence to continuously meet new people and build relationships that ultimately lead to a variety of opportunities.
Are there any skills or traits you gained at Coniston that you use in your professional life?
Empathy. Being aware and understanding what others may be feeling or thinking is a life skill that I find valuable everyday.
Are there any specific memories from your time at Coniston that are still impactful to you?
Ben Kamizar would not let us eat Chaco Tacos for dessert at lunch one day because he was allergic to peanuts. To this day…I've still never experienced a Chaco Taco.