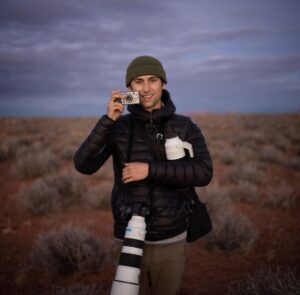 How old were you when you started Camp?

I started going to camp as early as possible at 8!
How were you introduced to Coniston?
We had some family friends (the Gesens) who were involved with Coniston and had kids who went to camp. Because of them, my older brother started going to camp and I would always go with my parents to drop him off and pick him up. I loved everything about camp itself and everything my brother told me about it, so my parents signed me up to go as soon as I was old enough.
Did you attend college, and if so, what did you study?
I did – I attended the University of Michigan in Ann Arbor. I studied Communications with a focus in Environmental Communication. I graduated in the Spring of 2019.
What is your current job? 
I currently work as a freelance outdoor photographer and as a photo assistant to acclaimed photographer Chris Burkard.
How has your career journey evolved?
Oh man, it's been quite the journey! I moved to California to work as an intern for Chris Burkard – it was a part time position that was set to last for four months. I couldn't get enough, so I asked to stick around for a second internship and from there got hired on full time to work at his studio. When I started working as an intern I had little experience in the photo industry but was excited to learn anything and everything that I could. I started working on smaller assignments and as I learned more I began working on bigger shoots with bigger clients and deliverables. After a little while I began working with Chris on photo shoots around the world and haven't stopped since! Today I continue to work on shoots with Chris but have also gained the confidence to work independently.
Did Coniston influence your ability to create this journey?
Absolutely. I still think of Coniston as one of the most formative parts of my childhood and don't think I'd be where I am today without it. Overall I think seeing and being a part of the magic that is Coniston helped show me that I could carve my own path as I got older. I was exposed to so many people from so many different places and backgrounds all of whom had different interests and skills. This showed me that there is no "traditional" path that needs to be followed and it also allowed me to try so many different things as I grew up.
Are there any skills or traits you gained at Coniston that you use in your professional life?
Most definitely. I think that above all camp taught me how to work with people and build meaningful relationships. This was at the core of both being a camper and on staff and today is equally important in my professional life. I think being able to connect well with anyone and everyone is an incredibly important skill and I attribute my ability to do this to all my years at camp. I also took my very first photo class at camp!


Are there any specific memories from your time at Coniston that are still impactful to you?
There are too many to recount. One thing that sticks out to me as I reflect on my time at camp are the amazing counselors I had and looked up to throughout my time at camp. It's been 15+ years but I can still recount every cabin counselor I had dating all the way back to my first one in B2 at eight years old. I looked up to these guys so much and I think they had a large impact on who I was and wanted to become. I also absolutely loved overnights and I think they're a big reason for why I love the outdoors so much and have pursued a career that revolves around the outdoors. There was one specific overnight at Penny Royal that I will never forget – the stars were the brightest I had ever seen and it made me want to spend many more nights sleeping under the stars.