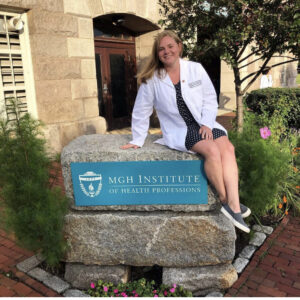 How old were you when you started Camp?

10
How were you introduced to Coniston?
My mom went to Coniston! 
Did you attend college, and if so, what did you study?
Saint Michael's College – Biochemistry. MGH Institute of Health Professions – Nursing, Family Nurse Practitioner track.
What is your current job? 
I am now working as an RN in pediatrics.
How has your career journey evolved?
My first job out of undergrad was working as a Camp and Non-profit management associate at Coniston. I then went on to work as a Mental Health Specialist on a Child and Adolescent Inpatient Psychiatry unit before starting nursing school at MGH.
Did Coniston influence your ability to create this journey?
Absolutely! Coniston has been such a large part of my development as a human being. At camp, we have the opportunity to learn about so many different interests and careers through the people that we meet. In fact, I would credit a conversation with Sue Strebel as sealing the deal for my choice to pursue nursing.
Are there any skills or traits you gained at Coniston that you use in your professional life?
I firmly believe that everyone could benefit from living in a cabin in the woods for two weeks with strangers. At Camp, you learn and teach interpersonal skills starting on day one by simply being together. I learned how to navigate difficult conversations, celebrate each other's wins, and advocate for myself and others.
Are there any specific memories from your time at Coniston that are still impactful to you?
Where do I even start? I think the best part of being a part of a place where people grow up is getting to witness it. Knowing that you played even the smallest role in someone's positive experience is what it's all about and keeps the magic of Camp alive for generations to come.