The Coniston Community has stepped up in a BIG way and hundreds of campers and alumni got involved in very unique ways to ensure the future of Coniston.
CONISTON BRACELETS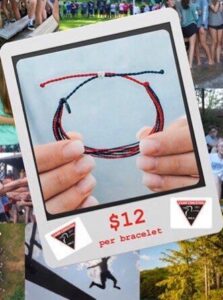 1st-year staff members, John Shelley and Ellie Wilson jumped into action when they heard Camp needed help by creating a fundraiser. These entrepreneurs sold homemade friendship bracelets and more importantly found a way of keeping the spirit of Camp alive during these times.
CONISTON TRIVIA NIGHT!
On June 25, 2020 over 150 CIT groups across the country from the late 90's through the 2010's gathered for a special trivia night fundraiser to help support Camp during the COVID-19 pandemic. Thanks to the generosity of so many, thousands of dollars were raised.
More than just a financial boost, the night was an opportunity for old friends to reconnect, laugh, and reminisce about summers on the lake. Congratulations to the 2001/2002 CIT team who took home the big win to have the donations to Camp made in their honor!
CONISTON HATS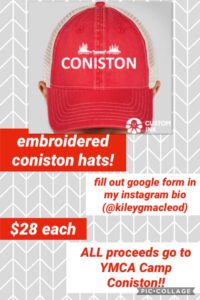 After spending five summers at Coniston, Kiley MacLeod knew that she wanted to help the place that has given her so much. She created a fundraiser to sell custom embroidered hats.