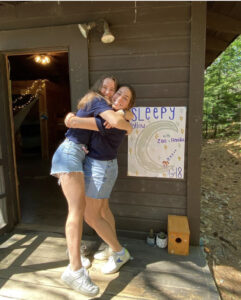 This summer I had the incredible opportunity to be in the Fellowship position. I was given the freedom to create a program to enhance camp in a way that I wanted. I created a fellowship with the goal being that Coniston is a place where every single person, no matter where they come from or who they are, would feel safe, comfortable and accepted, without having to change any part of their identity for the time they are here. I aimed to create a more diverse and inclusive environment at Camp for both campers and staff.
In doing this, a large aspect of what I did was creating a "gear store". This "store" consisted of any items that one would want to have at Camp; ranging from hygiene products, to clothing, bedding, bunk decorations, toys – you name it. Any staff member who needed something, or any staff who noticed a camper was in need of something, would let me know and I would discretely get it to them. It was heartwarming hearing how thankful campers and staff were about receiving these items and I felt very fulfilled knowing that I was able to give these kids anything they needed to enjoy their time here. The best part was that they got to bring it home with them to enjoy and maybe even bring back to future summers at camp.
Beyond the store, I worked on fostering this climate through making pronoun pins available to all campers and staff, providing all skin tone bandaids for the infirmary, giving unique facts at vespers about our staff and where they come from, and simply being a resource and listening ear for anyone to check in with.
Another activity that I introduced was camper penpals. Not only was this a great way to ensure that all kids who signed up received letters at mail time but it also created a connection between campers who may not have known each other otherwise. Overall, I feel beyond lucky to have worked in this role this summer and I really look forward to how Coniston continues to move forward in future summers as a magical place for any and every one. 

Annika Randall, Fellow