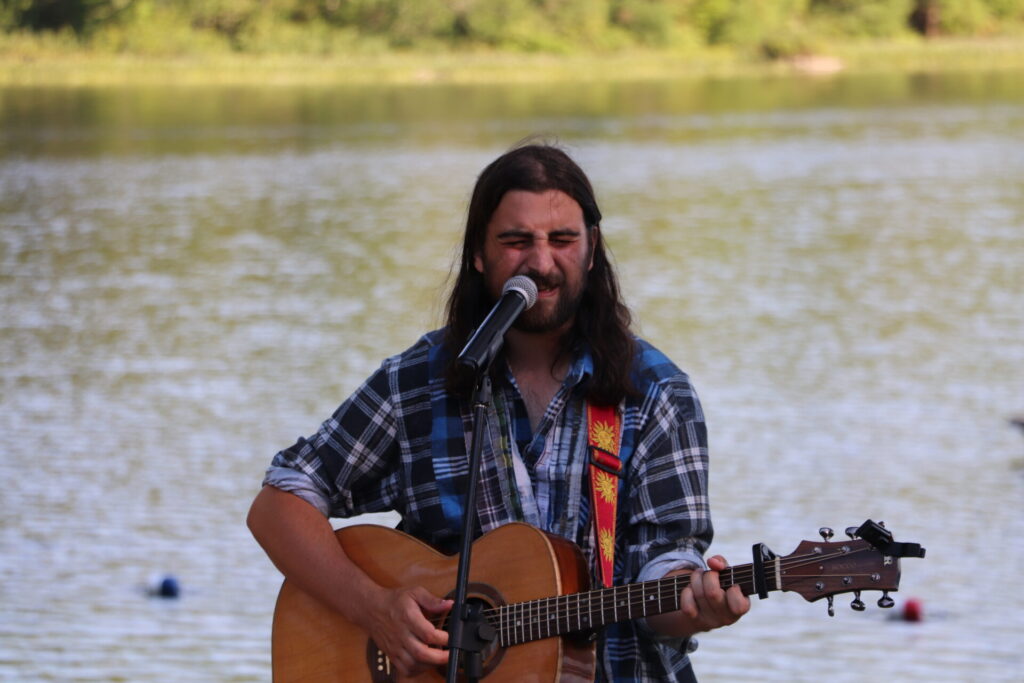 This summer, we were excited to have Noah Kahan, musician and Coniston alumnus, revisit Coniston and perform for our staff. He was welcomed back with open arms, and all staff were very excited to meet him and see him play live.
American singer-songwriter Noah Kahan released his first single 'Young Blood' in 2017. Since then, his music career has taken off with Noah collaborating with artists such as George Ezra, James Bay and Dean Lewis. He released his first album 'Busyhead' in 2019, taking his music on a world tour in the same year. In 2021 Noah headlined his 'I Am / I Was' tour, and after releasing his latest song 'Stick Season' this year, Noah treated the crowds at Red Rocks to a powerful set showcasing his new music.
Before his performance for our staff, Noah took a trip down memory lane, exploring the grounds, revisiting his old cabins and spending the last day of Session 2 with campers. Noah joined in on all the traditional closing night activities, including attending John Tilley's vespers. He was particularly thrilled to walk down the staff trail to Boys Vespers. It was a magical moment when Noah joined us for dinner in the dining hall and the whole of Camp sang one of his songs at the top of their lungs! Noah even attended closing campfire and played guitar while campers sang. He also joined our staff in performing traditional Camp songs at our closing candlelight ceremony.
Noah performed an acoustic set of his music, featuring songs such as 'Stick Season' and 'Young Blood', as well as treating the staff to a first performance of an unreleased song. Amidst his lakeside show, he invited staff member Grace Ferguson to join him onstage to sing Noah's song 'Hurt Somebody' as a duet. This was a very special moment not only for Grace, who shares Noah's passion for music, but for the entire camp, seeing alumni and current staff coming together and giving a heartfelt performance that was met with excited applause from other staff members.
Noah's passion for music was clear back when he was a camper from age 8 to 15 (2005-2012), as he often performed in our talent show. On his visit, he spoke about his experiences performing in the talent shows: "My first time I ever played an original song was at the talent show, and it was really cool 'cause everyone here was super supportive of it… I got inspired to write more." "I came second place every year to the kid who made car noises". He was delighted to finally receive the 1st place award staff members had made for him, presenting it to him after his moving performance.
Noah's music paired with the Coniston scenery created a truly spectacular experience for all, and we very much hope that Noah will be back. His career success is no surprise and we were very grateful he took the time to revisit us here at Camp.