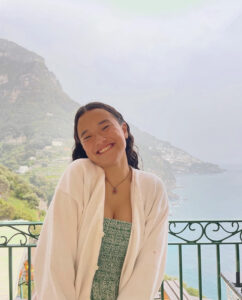 Hello Girls Camp, my name is Izzy I have vespers tonight, are there any announcements?
This past year marked a huge milestone in my life which was arguably the most dramatic change I've experienced so far. The fall began the same way as the previous 12 years of school only now instead of worrying about my overdue summer work on the first day of school, I was sporting a red "seniors" shirt and worrying about how to make the most of what would be my final year in the town I've called home for all 18 years of my life.
I knew that my last first day of high school would only be the first of many lasts I would experience last year.
The thought of so many goodbyes brought more stress and anxiety to my life than joy and excitement for what was supposed to be the best year of high school. As I tried to fall asleep my mind would swarm with thoughts of what my last a cappella concert, family dinner, football game, calculus class, sleepover with my sister, late night yogurt beach run with friends and eventually graduation would feel like. I was so determined to savor every one of these moments and squeeze every drop of life out of my senior year, but I had no idea how to do it.
Amidst this turmoil, I came across the concept of being a yes person. Put simply, a yes person accepts invitations, challenges new experiences and through their immersion in new settings they make memories that wouldn't have otherwise happened. I knew that my simple solution to the stress of making the most of my senior year would be making a conscious effort to be more of a yes person.
My friends Kate and Will asked if I would audition for my school's improv troupe one afternoon. I said yes, hopped out of bed, drove to the audition and after a successful callback was one of the eight new members accepted into the troupe of the 30+ auditionees. Some of my fondest memories of senior year are those made with my improv troupe and I undeniably gained life skills and confidence in myself and the power of "yes, and" that I wouldn't have otherwise gotten.
Similarly, this spring my friend Brady asked if I would be interested in trying out for the sailing team despite the fact that the last time I had touched a sailboat was when I was in G-11 and I'd never read a sentence of the 120 page rule book that seemingly every sailing team had memorized and readily available in pdf format on their phone. I said yes, made the team (it was no cuts), met amazing new friends, travelled to beautiful clubs and learned an entirely new skill that is now one of the most fun things I've ever done and something I hope to continue in college. I found myself saying yes to more a cappella gigs, invitations to ice cream and walks with my dad.
When I look back on my senior year some of my fondest memories are long rehearsals followed by dinner with my improv troupe and music filled bus rides to regattas in Rhode Island with the sailing team.
I am not suggesting that you invest yourself in the performing arts or a brand new sports team but I do urge you to say yes to things you're unfamiliar with, that may scare you, or things that may just be easier if you said no to because you never know what may come out of them.
To close I have a quote that I feel embodies this message well and urges me to be more of a yes person which is "and it never will be again." Every passing moment is an opportunity to learn something new and will never be again. Last year was my senior year of high school and it will never be again.
Today is July 11th at 5pm of Session 2 2023 and it will never be again. This is your life GK and it will never be again so treat every moment as an opportunity to say yes to a new experience or lesson and enjoy the results.
Now I have a song..