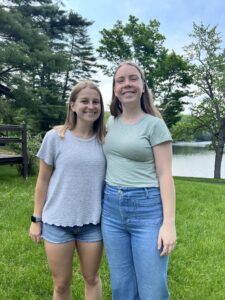 We recently interviewed one of our 2022 Program Directors, Hayley Horton, who has been undertaking Biological research this summer in Camp Coniston's very own bog.
What's your name, age, hometown, and what did you do at camp this summer?
Hi Coniston, my name is Hayley. I am 20 years old, this my 12th year at Coniston. I am from Chelmsford Massachusetts, and this past summer I was full-time Program Director and part-time bog researcher.
What did your research entail?
The research I was working on this past summer was in collaboration with a professor at the University of Vermont, which I attend during the school year, specifically working with pitcher plants; they are one of two carnivorous plants found in the bog. What we were aiming to do is get preliminary data on how different antibiotics affect microbial communities within pitcher plants.
Pitcher plants provide a very interesting mode of research; within the pitchers themselves are their own ecosystems that can be manipulated much easier than a full forest or full ocean when trying to manipulate with something like antibiotics.
Coniston was one of three sites where research was being done this summer, and I was working with one of three different antibiotics that were being tested. We are hoping this data will lead to the discovery of which antibiotic should be used for a larger trial. Currently we are looking at the data to see the degree to which the microbial communities were knocked down, which microbes were affected and which were still present.
As for the procedure I was actually conducting over the summer, every third morning for three weeks, I would go out into the bog and dose twenty plants (ten control and ten experimental) with either de-ionised water for the control plants, or with the antibiotic solution for the experimental plants.
At the beginning and end of the experiment I took morphological measurements, basically physical measurements of the plant, measuring the entire circumference of the plant, from top to bottom and measuring pitcher opening. I also took fluid parameters to see the amount of dissolved oxygen, the temperature, and different traits of the liquid within the pitcher. At the end of the trial we wrapped up by taking that morphological and fluid data again, while also collecting fluid from each pitcher to be analysed in the lab.
Where did your passion for Biology begin?
I am currently a Biological Science major at the University of Vermont, and I can really trace that passion for Biology back to my time at Camp. I had always been interested in science at school, but found that at camp I had the space to really be inquisitive and connect closely with nature in a way that education doesn't often provide.
Through the Ecology programme area, I was encouraged and excited to be inquisitive and free to question and interact with the nature around me without any looming pressure of grades or deadlines. That really connected me to the field, and has led to where I am today.
How has Coniston influenced your interest in this area?
Specifically in the research I have been assisting with, Camp was a huge help in getting my foot in the door. This past year I took a class called 'Ecology and Evolution' with the professor I have been working with, and he talked about his past research, a lot of which was done with pitcher plants. Right off the bat, I was very interested given my connection with Camp and my interest in pitcher plants through the bog and through Ecology.
When I was drafting my email to his asking if I could help with his research, I spoke about how I had learned a lot through this camp and grown a really hearty interest in the system that he was working with. I expressed that I had that hands-on knowledge that maybe other undergraduates wouldn't have walking into his lab. I was really excited about the prospect of turning this childhood interest of mine into a college prospect.
What were the most interesting discoveries you made whilst conducting your research this summer?
The research has already yielded so many interesting discoveries, and will continue to as we analyze the data further, but I would like to focus on two interesting discoveries in particular:
Firstly, I was very interested to find just how alive the inner system of the pitcher plant was. I had never had the opportunity to remove the fluid from a pitcher and actually see what was going on inside; there was so much life which was really cool to see. This very acidic environment that basically acts as digestional fluid still had mosquito larva and flesh flies inside. On top of that, there's an entire microbial community that is too microscopic to even see, but I knew I would be able to view the data once it had been sequenced.
One of the more touching discoveries was seeing how excited campers got when seeing this research being done. I was not on Ecology staff this year, but I would hear about the bog walks they would do, and sometimes campers would seek me out after to ask me about my research. 2 campers in Session 1 were really interested to hear about every part of the process, and were so passionate in a way that I recognised in my younger self. It was so cool and very impactful for me to see the research I was doing ignite curiosity with these campers.
What future plans do you have for this research?
As for the future of this research, I am taking undergraduate research credits, and assisting with the analysis, planning and write-up for next steps of this project. We are hoping that the data will be solid and that we are able to propose and conduct a full-scale experiment to dig deeper with what we have already found. I, personally, am hoping to pursue an accelerated masters at UVM using this project as my thesis.
How would you describe your overall experience of being a Coniston staff member this summer?
Being on Coniston staff this summer was incredible. I felt very fortunate that I didn't have to compromise both my future aspirations for my career and my current aspirations for camp. I was provided with the opportunity to do both at once. I feel so grateful that the staff and the campers at Camp welcomed my project with such open arms; the Camp director John Tilley was especially excited at the prospect of me doing this research and was so consistently interested in what I was doing, asking some really insightful questions. He was so excited to see what it provided for me as well as what it provided for the campers.
As for my main job on Camp this summer, I was Program Director, who plans the evening programs and helps a lot with the camper scheduling, making sure the day-to-day fun at camp runs smoothly, including the wonderful programme areas such as Ecology. I loved my job this summer, and how much it allowed me to interact with the staff and how they were each running their own aspects of camp, making sure their little corners of the world ran smoothly, while also being able to plan these big evening events and see how much fun the entire camp had with an idea that Carolyn (my fellow Program Director) spent a lot of time planning.
I feel so grateful to be both a research assistant this summer and spend the time in the bog, whilst also learning so much through my job as Program Director. There is a lot of overlap in these two jobs; I learned how to work with other people, I learned how to admit that I didn't know how to do something, how to search for help in those areas. In so many ways these roles bolstered each other, allowing me to have a truly incredible summer.
If you had a message for budding scientists who are thinking about coming to Coniston, what would it be?
If I could relay any message to budding young scientists who are thinking about coming to Coniston, I would first of all say do it! There are so many great opportunities to become independent, inquisitive, and confident person, all these things that will help you in any career. I would also encourage them to consider where they might find inspiration and opportunities for knowledge in potentially unexpected places.
You may not think that coming to camp will lead to a scientific career; we focus a lot on fun and friendships and trying new things, which a lot of the time doesn't seem to naturally pair with science's pursuit of knowledge and procedure. However, in my experience the fun that I had at camp led me to want to continue having fun and learning through that fun. The friends I made at camp helped me to understand what I wanted out of life and my career, helping me every step of the way when it seemed scary to put myself out there. Trying new things is the root of science, and the root of becoming a person who is comfortable asking questions. Maybe you don't see learning how to shoot an arrow as the same thing as being able to come up with a new scientific hypothesis, but it all feeds into building a well-rounded person that is capable of doing what the world of science requires in a way that feels fun and rewarding.
I would encourage anyone to not just consider the traditional paths that might make preliminary sense in becoming a scientist. I didn't have to attend a Math or Science Camp to get where I am today. I was able to use my experiences at Camp Coniston to find meaning in what I learned, and express that meaning to people who could provide me with opportunities. I am so excited for each and every camper to know that whatever you are interested in, be that the Sciences or Humanities, there is a lot of potential with coming to Camp and I wish them all the very best in their learning.