The gratitude we feel for 2021 is an of course sense of gratitude. When we asked our families to participate in new protocols they said, of course. When we were met with challenges that required us to lean into different areas of work, members of our team said, of course. Was this summer the most challenging summer in recent memory? Of course. Was it full of fun, adventure, and laughs? Of course. Was it the best summer ever? Of course.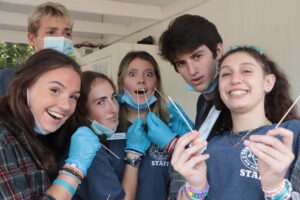 This summer, the Coniston Community stepped up more than ever before. Check-in days included testing, social distancing, and staggered check-in times. Thank you parents. Our first check-in day was hard…long and hot. The struggles of the day helped us to grow and learn —enabling us to make improvements for the following check-ins. This was only the beginning of what ended up being our most magical summer yet. The summer we all needed.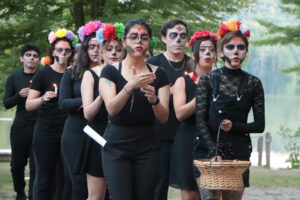 A highlight from this summer were the stunning drama shows. In particular, our session 3 drama show, Coco—a story inspired by The Day of the Dead. We had a large number of staff from Mexico this summer who chose the show as a way to share their culture with the rest of Camp. The drama staff also made sure to incorporate authentic Mexican culture into the show, including traditional sugar skull makeup and costumes.
…staff cried, touched by the show. Some were homesick and the show made them feel closer to everybody. For Mexican staff, sharing this tradition was significant and they were proud to be able to share their culture with the Coniston Community. Alma, Drama Director.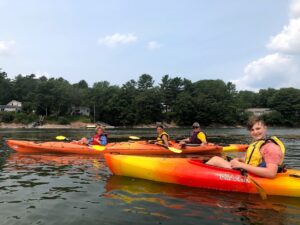 Coniston campers weren't just having fun at Camp, they were also having fun outside of Camp! This summer there were seven adventure trips, where campers went climbing, hiking, whitewater rafting, ziplining, and biking all over New Hampshire, Maine, Vermont, and Massachusetts in stunning surroundings! Some of our older campers also helped the local community on our service trips where they helped with meal preparation, gardening, and trail maintenance. Our CIT Program looked slightly different this year, as both trips stayed on the East Coast, thus creating a new program: North Coast CITs. Both our N-CITs and E-CITs had life changing experiences hiking either Katahdin or Mount Washington.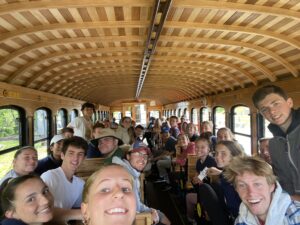 Our forty LITs who missed their CIT summer in 2020 were pleasantly surprised with
the opportunity to bond as a group on
an abbreviated CIT experience up Mount Washington during staff training. Additionally, once they summited, each LIT received an inspirational letter from fellow staff members—a tradition for all CITs.
…COVID took a little bit from all of us this past year in so many obvious and some subliminal ways, but if this day showed us anything, the strength and perseverance of the community of Coniston is not going anywhere. Fran, Girls Camp Director.
There may have been a few changes this summer to Coniston because of the pandemic, but Camp was Camp. The traditions were still alive. We still danced at meal times. We still had beautiful Vespers stories shared everyday. We still slept under the stars. We still stepped out of our comfort zones and tried new things. We still saw campers build friendships that will last a lifetime. We still had Camp. And it was truly special. It was what we all needed.