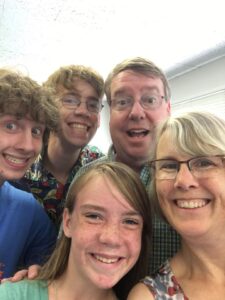 The Horton Family always takes advantage of visiting Coniston – our favorite place – whenever we can. Lynn and Sherm were campers and staff in the 1970s and early 1980s. When Coniston offered a Family Camp program (before the One Week / Session 5 program was added), we attended every summer. Our children, Bradford, Walker, and Hayley grew up with Family Camp and then attended regular camping sessions and Adventure Camp trips before being CITs and joining the staff. 
We were heartbroken at the news that Coniston wouldn't be providing "fun in the sun" for campers this summer. Hayley was ready to be on the staff, eager to work in Ecology and Archery and with a middler cabin. As it was for most, the spring and summer were totally disrupted and the canceling of Camp was a big blow.
We were thrilled when Coniston announced the Community Days and that there was an alumni focused set of events! Three of us visited on a beautiful Monday and while we arrived after the opening bell, there was easy parking and a clear path to the check-in desk beside the dining hall. At check-in we got a wrist-band and sheet describing the day's events and camp rules.
We were assigned a cabin in Girls Camp as a place to change into swimwear, etc, but our first stop was visiting Archery and shooting a few rounds. After Archery we did go swimming, on what used to be called "Family Beach" but what is now, I think, called Snorkeling beach.
The event was well attended and it was wonderful to experience the "sights and sounds" of camp. There were enough smaller kids attending (thanks to all the alumni who keep creating new Coniston Campers!) to make the camp (almost) feel like it would during a regular camping session. It was also great to see so many people enjoying the lake; kayaking, paddle boarding, canoeing, and swimming. At the end of day, when people were packing-out, it was both sad and beautiful to see the lake and camp return to it's quiet, camperless state.
Staff and alumni were all extremely friendly while also respectful of distancing and wearing masks. Camp is great because there is enough space to spread out and stay safe. 
It was a fun and relaxing day and we really appreciated the opportunity to visit and to play. Thank you to the year-round and summer staff for making these Community Days possible and thanks to everyone for supporting the Camp through this challenging time!
Looking forward to our next visit!
The Hortons, Lynn, Sherm, & Hayley