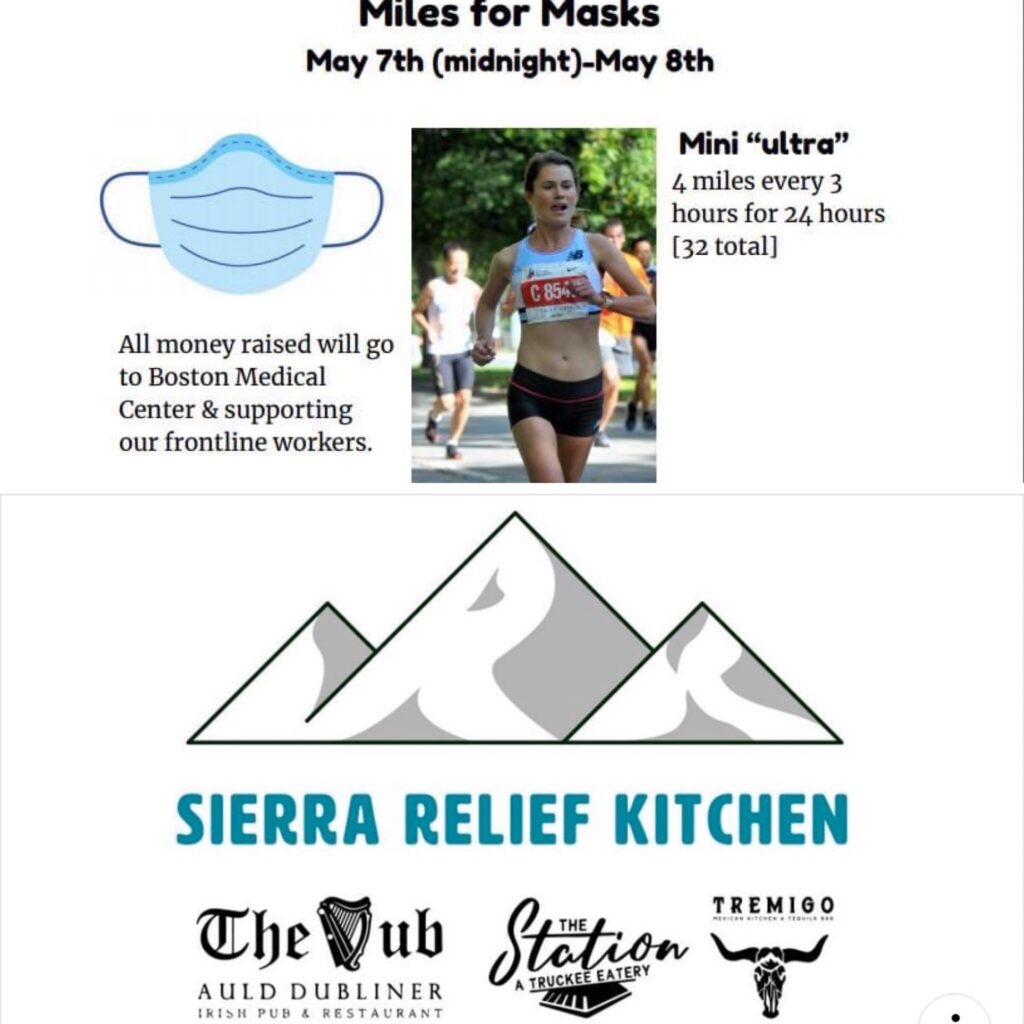 Miles for Masks:
Conistonian Cassie Short, a teacher at Wellesley Public Schools as well as the track coach, has used her passion for running as a way to help frontline workers. On May 8th, Cassie conducted a Miles for Masks fundraiser. Beginning at midnight, Cassie began running with goal of running 32 miles in 24 hours. All the donations she received are to help raise funds for Boston Medical Center Corporation. As Cassie wrote "With no true "races" on the calendar to train for I want to use my running platform to raise money for Boston's frontline workers. If they can work endless 12-hour shifts, I can certainly test my limits for 24 hours." If you are interested in hearing more about Cassie's initiative or follow her progress on Facebook and Instagram.
Tremigo and the Sierra Relief Kitchen:
Part of the COVID-19 response is adapting, overcoming and coming together as a community. Conistonian Rachel Graf-McCabe, daughter of longtime camp nurse Patty Graf is doing just that. This past December, Rachel Graf-McCabe opened Tremigo Mexican Kitchen in the Tahoe area. When the pandemic hit and stay at home orders were put in place many in the outdoor recreation and tourism hub of Tahoe were left without jobs and found themselves without funds for food. Although restaurants were closed Rachel and her fellow restaurant owners knew there was a way they could help serve their employees and community members. Alongside other restaurants in the area the Sierra Relief Kitchen was started. With volunteers and donations of groceries, equipment and technical support the Sierra Relief Kitchen was up and running quickly, providing meals to residents in need. Every Saturday the Sierra Relief Kitchen is offering food and relief to their local community. At first, they thought they may be serving around 40 people but since it has begun, they have served up to 750 meals in a day for take-out and delivery. In all that the pandemic has brought it is increasingly important to see and experience the wonders of community coming together. Thank you Rachel!