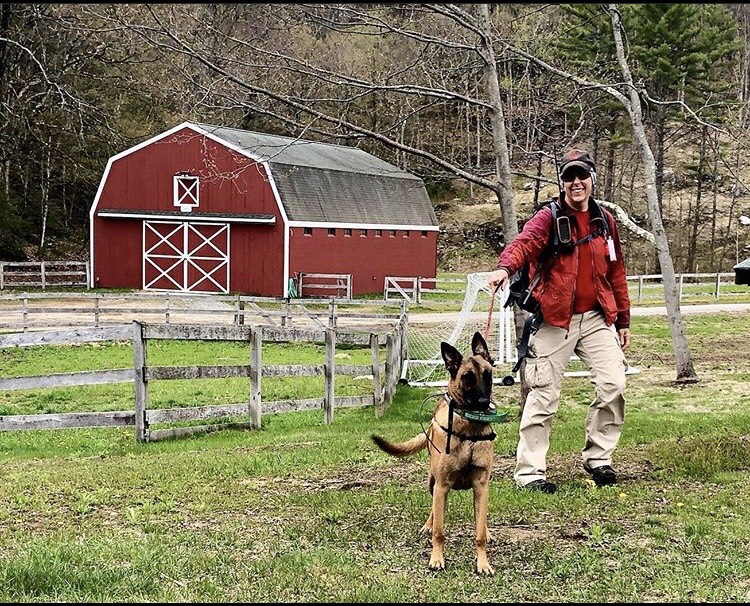 The outdoors provides many people a breath of fresh air and a place to clear their mind and get some exercise during state's stay at home orders and reopening plans. Getting out to enjoy the local bike trail or take a local hike is an activity that many have taken up to help provide structure or relaxation. Outdoor recreation has been increasingly sought after giving everyone the ability to exercise, clear their head or just take in some beauty while maintaining proper distancing measures. However, hiking mountains or exploring rivers does come with some risks. 
With access to the outdoors there are many people and puppies (Yes, we said dogs!) behind the scenes that ensure the safety of those venturing to explore their backyards and communities. This past weekend, New England K9 Search and Rescue came to Coniston's property to practice and train. At Coniston, these air-scent trained rescue dogs are able to practice land and water rescue scenarios to hone their skills and remain trained and ready to execute. This collaboration helps ensure the safety of many people exploring their local areas and allows New England K9 Search and Rescue an ideal free space to constantly train and keep people safe. Even during quarantine these volunteers help keep New Englanders exploring the outdoors safe in case of emergency.
New England K9 Search and Rescue aims to provide, without cost, trained search and rescue personnel and K9s to the law enforcement agencies of Vermont and New Hampshire to assist in their efforts to locate lost and missing persons. They offer assistance to the Upper Valley Wilderness Response team and have been helping the local area since its founding in 1981.
From Coniston, we would like to say thank you to the New England K9 Search and Rescue for volunteering your time to keep New England safe. We are very thankful we are able to collaborate with New England K9 in order to ensure a safer and better community.