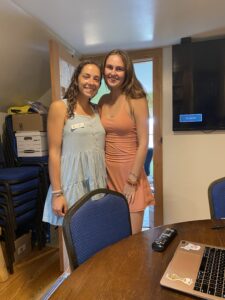 For the past three summers Coniston has offered two paid fellowship positions to engage staff's academic knowledge and leadership ability for the betterment of the Camp Community. These programs allow us to give current undergraduates internships recognized by their colleges. Megan Davis was the recipient of the Ernest Baynes Academic Fellowship and Katie Bosco was selected to serve as the George Dorr, Jr. Leadership Fellow.
Both fellowships focused on the mental, emotional, and social health of our campers and staff with a mission to promote healthy habits, education, and to provide support. The Coniston Community has faced the challenges of the last 18 months head on and as we emerge the work the fellows' provided this summer was extremely important.
In addition to supporting individuals, Megan and Katie also shared mental health tips during Vespers, provided campers with activity booklets as a calming exercise to deal with stress, organized evening programs for staff to promote well-being, and created handouts for counselors to educate them on how to better mentor a struggling camper. The reading nook located inside the lodge was re-purposed into a mindfulness corner with posters promoting well-being.
Summers to come will be critical as we work together to counteract the persistent emotional consequences of the pandemic and other adverse childhood experiences, in addition to social-emotional and academic learning losses.
Mental health was a big focus this summer and received the attention it needed for the Coniston Community.
—Ernest Baynes Academic Fellow, Megan Davis
We normalized mental health for both campers and staff—began to put an end to stigmas surrounding the term.
—George Dorr, Jr. Leadership Fellow, Katie Bosco